Events for May 18, 2019
Events Search and Views Navigation
1:00 pm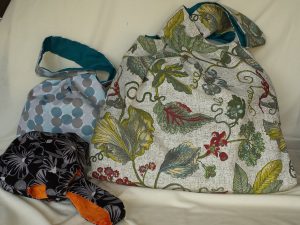 This class is perfect for the beginner sewer. You will learn how to pin, mark and cut out your pattern. You will be doing straight stitching, making darts and sewing along curves. We'll provide the pattern with specific instructions and guide you along the way to make a super cute and useful bag.
Choose the size you want and then see the material list for what you will need to bring.
The small bag is sized for phone, keys and small wristlet. Perfect for a quick run to the store. The medium bag is sized for bigger wristlets, a to-go craft bag or transporting those gyms clothes. The large bag is big enough to hang from the shoulder and is sized to be used for a shopping bag or maybe all the things you need to take to the pool or park. The uses are endless.
Materials needed: Small - Two fabric pieces 1/4 yard for each (1 inside / 1 outside) or two fat quarters. Medium - Two fabric pieces 5/8 yard for each (1 inside / 1 outside). Large - Two fabric pieces 7/8 yard for each (1 inside / 1 outside). Suitable fabrics are quilting cotton, broadcloth or similar weight. Matching sewing thread. Picture shows repurposed stained blouse for medium and a tablecloth for the large size.
We encourage you to bring your own sewing machine, bobbin, matching sewing thread. Machines are available but thread colors are limited.
Find out more »

** Intro to Machining is a prerequisite class. You have to complete the Intro to Machining class before you can take the Milling 101 Class. *****
In this class you will receive basic hands on experience in operating a Bridgeport Series I J-Head milling machine. During this 3 to 4 hour class, Billy will go over the basics of tramming the head of the mill, tramming the vise, edge finding, work holding and setup, drilling , side milling, and top/end milling operations. You will also learn the basics of the DRO (digital read out), the table power feed, and basic care of the mill. This is a tool authorization class and once completed you will be authorized to use the milling machine and Knox Maker members will receive a key need to operate the mill. Intro to Machining is a prerequisite class.
There will be a fee of $24.96 for members.. There will be a maximum of 4 spots of this class, and a minimum of 2 tickets must be sold. If the class minimum is not met 48 hours prior to class start time, the class we be canceled and all tickets will be refunded.
Find out more »
+ Export Events