Tormek Sharpening Authorization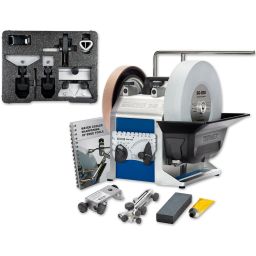 Come learn how to use our Tormek T-8 sharpening system. This is a water-cooled grinding system that offers an alternative to the hand sharpening technique taught in the "hand tool sharpening and setup" class. We will cover basic setup and proper use of as many jigs as we can get through. At the end of this class you should be able to sharpen your gouges, irons and chisels without hurting yourself or destroying our fancy new toy.
There will be a fee of $19.96 for members, $39.96 for non-members.  There will be a maximum of 10 tickers of this class, and a minimum of 3 tickets must be sold. If the class minimum is not met 48 hours prior to class start time, the class we be canceled and all tickets will be refunded.
Directions: Knox Makers parking and entrance is located in the fenced area around the back of the SPARK building.
Knox Makers is a place for the Knoxville area's engineers, artists, hobbyists, innovators, educators and entrepreneurs to work and play. We are a technology and art collective dedicated to the promotion of creativity enabled and informed by science. Our lectures, workshops, and outreach programs inspire and educate both members and the general public. Our workshop provides members with both the space for large projects and the tools to complete them. We are a non-profit educational organization supported by member dues and staffed by volunteers.