PMC Jewelry Crafting – Part 1 of 2 (Pt 2 6/22)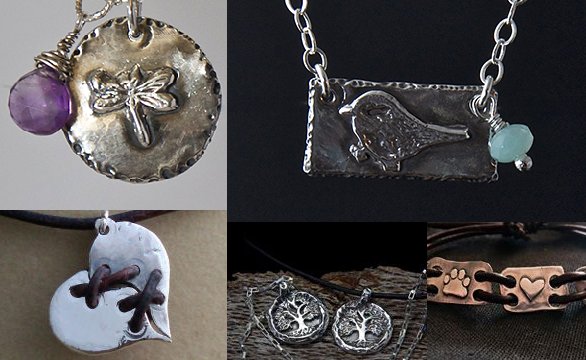 PMC, or precious metal clay, is used to create jewelry and contains .999% pure fine silver. PMC was developed and patented in the 1990s by Mitsubishi Materials of Japan, and the pure fine silver used in PMC is recycled from electronics devices such as cell phones, computers, and X-rays. PMC is a material that has the feel and working properties of modeling clay, and using simple tools, objects are easily given shape, texture, and character.
Denae will lead a two-part class where attendees will learn how to make silver jewelry out of PMC, or precious metal clay. In Part 1 of this class, attendees will use simple tools such as a knife, roller, spatula, ruler, and texture stamps to learn the basics of creating, embellishing, drying, and sanding a pendant or earrings using PMC fine silver clay. Pieces created during this class will be fired at the end of the first day, and during part two of this class, students will return to learn the basics of adding patina, polishing, and tumbling to create .999% fine silver pieces with a beautiful finished look. These fine silver pieces can then be worked just as any other silver item by hammering, polishing, burnishing, tumbling, soldering, and enameling. Students will leave the second class with a finished fine silver creation.
There will be a fee for this class of $95 for the general public, $85 for current Knox Makers members. This fee will cover both parts 1 and 2 of this class and all necessary materials and firings. There will be a 12 person maximum for this class and a 4 person minimum. If the class minimum is not reached by 48 hours prior to the time the class is scheduled to begin, the class will be canceled and all tickets will be refunded.
Knox Makers is a place for the Knoxville area's engineers, artists, hobbyists, innovators, educators and entrepreneurs to work and play. We are a technology and art collective dedicated to the promotion of creativity enabled and informed by science. Our lectures, workshops, and outreach programs inspire and educate both members and the general public. Our workshop provides members with both the space for large projects and the tools to complete them. We are a non-profit educational organization supported by member dues and staffed by volunteers.
Who's Attending
7 people are attending PMC Jewelry Crafting – Part 1 of 2 (Pt 2 6/22)
7 people are attending PMC Jewelry Crafting – Part 1 of 2 (Pt 2 6/22)