Metal Turning 101 – MSC Lathe Tool Authorization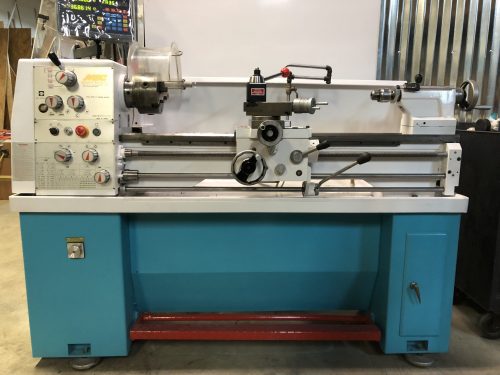 ** Intro to Machining is a prerequisite class. You have to complete the Intro to Machining class before you can take the Metal Turning 101 Class. **
In this class you will receive basic hands on experience in operating a MSC 13″ x 40″ Lathe. During this 4 to 5 hour class, David will go over the basics which include work holding, facing, center drilling, drilling, profile turning, grooving and parting operations. You will also learn the basics of using a dial indicator for more accurate parts, power feed, and basic care of the lathe. This is a tool authorization class and once completed you will be authorized to use the lathe and Knox Maker members will receive a key need to operate the lathe. Intro to Machining is a prerequisite class.
(Not covered in the class: Threading, Boring Knurling, Spherical generation, or tapered turning between centers)
There will be a fee of $24.96 for members.. There will be a maximum of 4 spots of this class, and a minimum of 1 tickets must be sold. If the class minimum is not met 48 hours prior to class start time, the class we be canceled and all tickets will be refunded.
Directions- Knox Makers parking and entrance is located around the back of the SPARK building in the fenced in area.
Knox Makers is a place for the Knoxville area's engineers, artists, hobbyists, innovators, educators and entrepreneurs to work and play. We are a technology and art collective dedicated to the promotion of creativity enabled and informed by science. Our lectures, workshops, and outreach programs inspire and educate both members and the general public. Our workshop provides members with both the space for large projects and the tools to complete them. We are a non-profit educational organization supported by member dues and staffed by volunteers.