Making Etched Metal Drinkware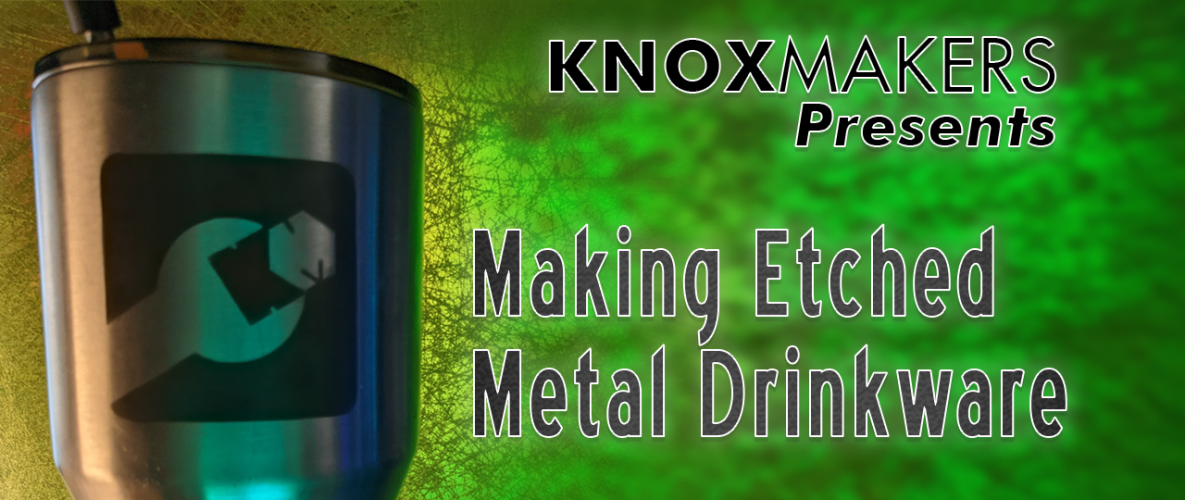 It is that time of year again. People are trying to get a gift for someone who is hard to shop for. Why not make them something instead? You could also just make something for yourself.
This class will guide attendees through the process of creating vinyl graphics that are then applied to stainless steel cups. Using a bit of electricity and science, the cups are then electrochemically etched to have permanent, custom, artwork engraved in their surface. The resulting image is durable and will last many years.
We should be able to complete the class in 2 hours but it would be a good idea to assume it could run longer because different people work at different paces. I will be hanging around the space until everyone has a completed cup.
As time is limited, we won't be spending a whole lot of time working on artwork so it may be a good idea to get something together prior to the day. Typically images in SVG format work best as they open directly in Inkscape and can easily be edited. It is also a good idea that individual details are larger than about a 1/4 inch as there are often issues getting them to stay adhered to the cup once they are transferred to vinyl. If you don't feel comfortable making your own artwork at home, we can make it during the class. Alternatively you can message Paul McGowan on mattermost if you want some help putting a design together.
The cups provided with the class are 32 oz tumblers with lids. They are typically able to accommodate artwork that is around 2.5 – 3 inches tall and no more than 7 inches wide.
The marking process uses a small electrical current and some mild chemicals which produce some mostly harmless fumes. We will wear personal protective equipment and have extra ventilation anyways.
Directions-  Knox Makers parking and entrance is located around the back of the SPARK building in the fenced in area.
Knox Makers is a place for the Knoxville area's engineers, artists, hobbyists, innovators, educators and entrepreneurs to work and play. We are a technology and art collective dedicated to the promotion of creativity enabled and informed by science. Our lectures, workshops, and outreach programs inspire and educate both members and the general public. Our workshop provides members with both the space for large projects and the tools to complete them. We are a non-profit educational organization supported by member dues and staffed by volunteers.