LockPicking Intro – Hacking a Lock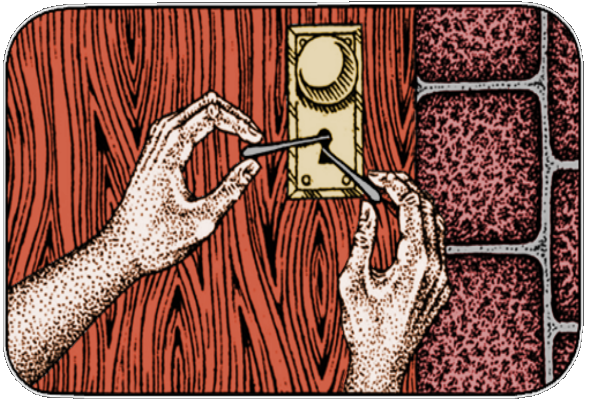 This Is the Authorization class for the Lockpicks and locksport.
We will go over safety and proper use of lockpicking tools and the ethics behind locksport.
"Locksport is the sport or recreation of defeating locking systems. Its enthusiasts learn a variety of skills including lock picking, lock bumping, and a variety of other skills traditionally known only to locksmiths and other security professionals. Locksport followers enjoy the challenge and excitement of learning to defeat all forms of locks, and often gather together in sport groups to share knowledge, exchange ideas, and participate in a variety of recreational activities and contests."
Upon completion of this course the Student will understand; the physical mechanics of Hacking a pin tumbler lock, the ethics behind lockpicking, and will successfully pick a five pin lock.
There is a maximum of 10 participants. Cost of this event is $24.96 members and 34.96 non members. Includes; Class, 2 Picks, and a Tension Wrench.
Directions- Knox Makers parking and entrance is located around the back of the SPARK building in the fenced in area.
Knox Makers is a place for the Knoxville area's engineers, artists, hobbyists, innovators, educators and entrepreneurs to work and play. We are a technology and art collective dedicated to the promotion of creativity enabled and informed by science. Our lectures, workshops, and outreach programs inspire and educate both members and the general public. Our workshop provides members with both the space for large projects and the tools to complete them. We are a non-profit educational organization supported by member dues and staffed by volunteers.