Intro to surface mount soldering: Build a Serpinski triangle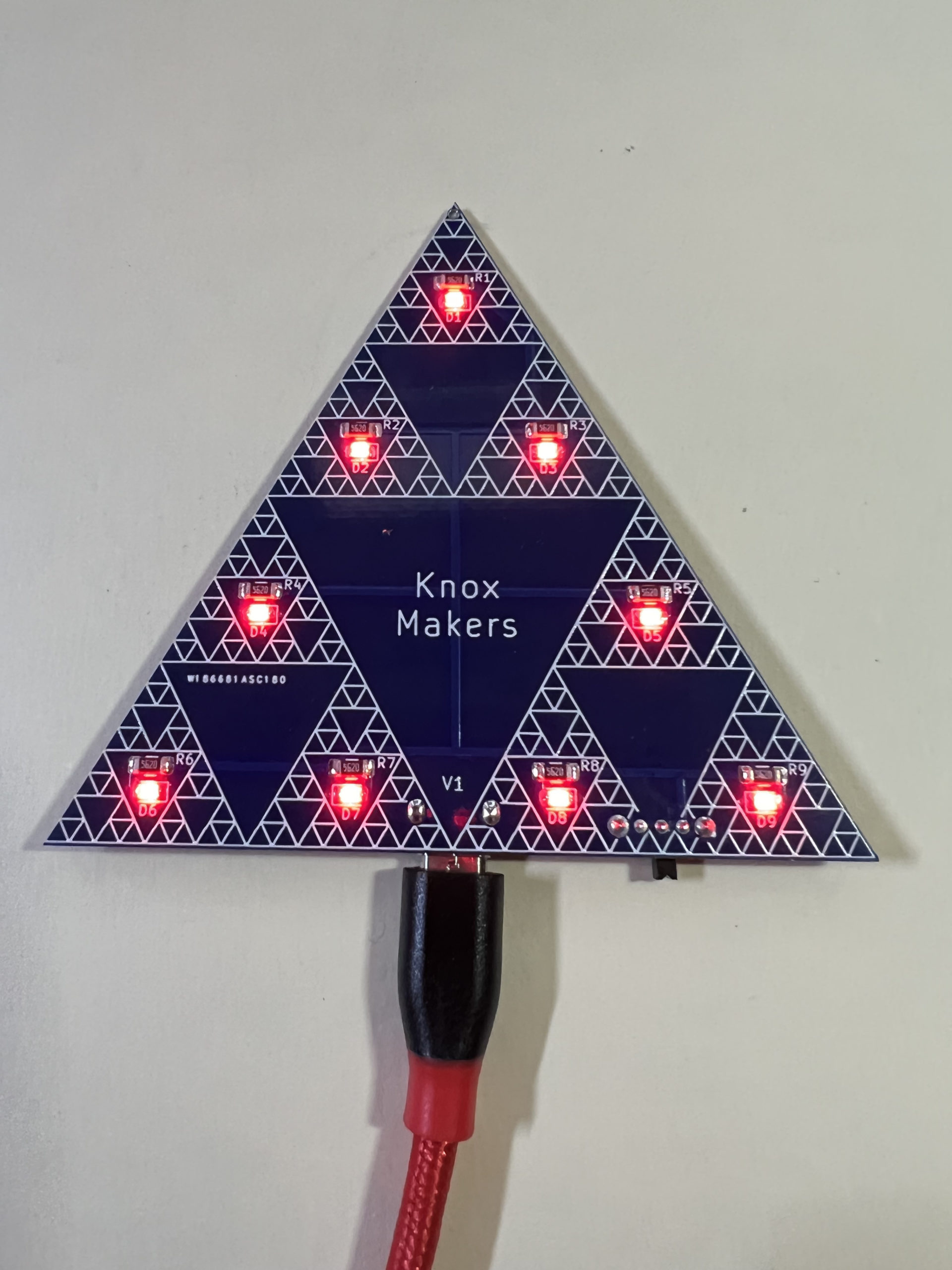 Basic surface mount technology (SMT) soldering skills significantly broaden one's ability to do repair work, to miniaturize circuits, and to work with modern components that are not offered in through-hole formats. SMT soldering is often portrayed as difficult and intimidating but we have taught plenty of people to tackle this and virtually everyone finds it approachable.
In this class you will learn to perform surface mount soldering. We will start with larger 1206 components and then tackle 0805 size to complete the kit. There will also be opportunity to try 0603 and finally 0402 size though they are not required.
PCBs, components, solder irons, fine diameter solder, and magnification will be provided. Attendees should plan to bring the following:
Tweezers appropriate for SMT work. These are available at an affordable price in the KM Electronics store or many online sources.
If you have your own solder iron, consider bring it. Ideally the tip size would be 1/8″ to 1/16″ for the smaller parts but you can likely work with whatever you have for this class.
Unless you have very good eyesight, some type of magnification is probably desirable. We will have enough optical and digital magnification to make something available to all attendees. However, we cannot guarantee one form or another for anyone in particular. If you have a strong preference you should bring your own.
---
Directions: Knox Makers parking and entrance is located in the fenced area around the back of the SPARK building.
Knox Makers is a place for the Knoxville area's engineers, artists, hobbyists, innovators, educators and entrepreneurs to work and play. We are a technology and art collective dedicated to the promotion of creativity enabled and informed by science. Our lectures, workshops, and outreach programs inspire and educate both members and the general public. Our workshop provides members with both the space for large projects and the tools to complete them. We are a non-profit educational organization supported by member dues and staffed by volunteers.