Intro to SMT: Build an Atari Punk Console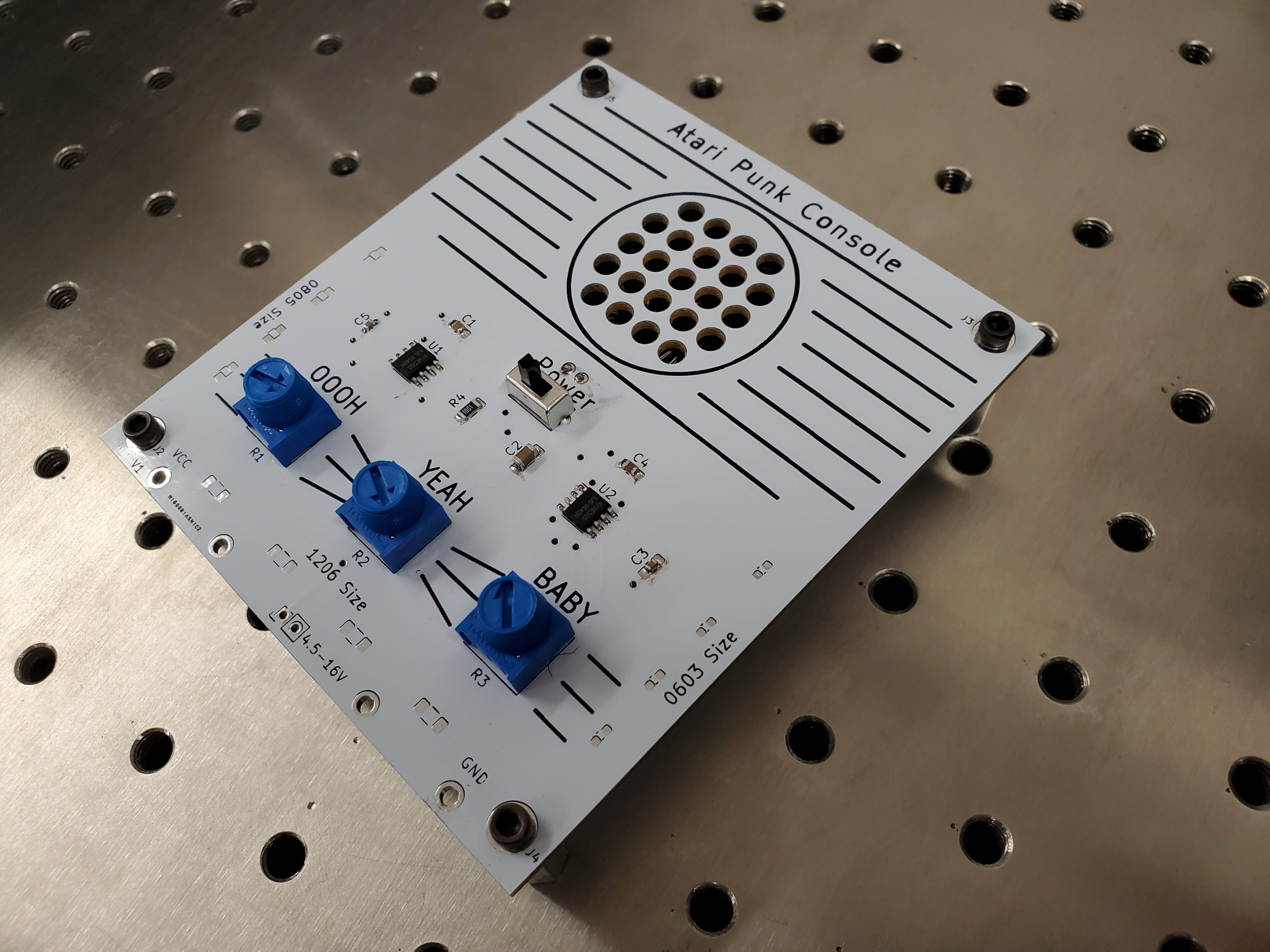 The Atari Punk Console is a retro synth circuit that appeared as a Stepped Tone Generator in a Forest Mimms book, available at Radio Shack long ago. Paying homage to the digital sounds of 1980's Atari console games, it makes some fun, or horrifically awful if you're not one of us, noises that delights the enlightened electronics enthusiast. To some, building this circuit is one of many rites of passage into the…. OK, maybe that's a bit over the top.
Similar to the last several build classes, Ray designed the kit and Issac will be leading the class. All proceeds go to Knox Makers.
Note that this will be a virtual class held over Big Blue Button. Kits will be placed at the Knox Makers space for pickup after you have registered. The link to the Big Blue Button meeting will be emailed to you shortly before class begins.
In this class attendees will learn to perform surface mount soldering. We will start with some larger components and work our way down to the smaller ones as our confidence builds. Components will include 1206 size , 0805 size, and 0603 size resistors and capacitors. There are two SOIC-8 integrated circuits and a handful of thru-hole components.
If all goes well (and it probably will), you'll have your very own Atari Punk Console with which to impress your friends and earn maker street cred.
All of the kit parts are provided as is some fine diameter solder and solder wick. Attendees will need to have a few tools of their own:
Tweezers appropriate for SMT work will be for sale at an affordable price in the KM Electronics store
A solder iron with a fairly fine tip (ideally between 1/16″-1/8″) is required. Any solder iron with a fine tip should work, however investing in an iron with temperature control is worth considering
Unless you have very good eyesight, some type of magnification and good lighting is highly suggested. A magnifying lamp or visor is a common option as is soldering under a cell phone camera held on a stand
A hot glue gun to glue the small speaker and 9V battery to the PCB. If you have another idea for affixing them, like electrical or masking tape, by all means use it
Wire strippers for small gauge wire (~22ga), so you don't notch your teeth on the two wires we need to handle.
Side cutters (wire cutters) to trim wire leads off somewhat flush with the PCB would be helpful but not necessary
Any tool-related questions can be asked in the Electronics Area of Mattermost where experienced members will provide varying perspectives and recommendations.
This class is for members only and costs $19.96. There will be a 9 person maximum and a 4 person minimum. If the minimum isn't met 24 hours in advance the class will be canceled.
Directions: Knox Makers parking and entrance is located in the fenced area around the back of the SPARK building.
Knox Makers is a place for the Knoxville area's engineers, artists, hobbyists, innovators, educators and entrepreneurs to work and play. We are a technology and art collective dedicated to the promotion of creativity enabled and informed by science. Our lectures, workshops, and outreach programs inspire and educate both members and the general public. Our workshop provides members with both the space for large projects and the tools to complete them. We are a non-profit educational organization supported by member dues and staffed by volunteers.