Intro to Sewing – Workshop Apron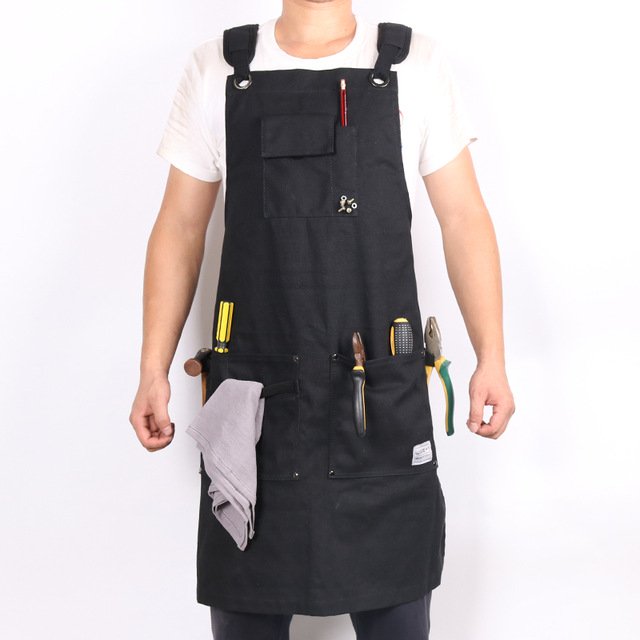 You must purchase a ticket for this event.  https://knoxmakers.org/event/intro-to-sewing-workshop-apron/
This is a class for the makers out there who want a customized shop apron. We'll start by making the bib, hips and length just right for you. Straps can be wide or narrow, around the neck or cross in the back. To secure at the waist in the back, you can choose velcro, a release buckle or simply tie. No pockets or lots of pockets. Design the pockets narrow or wide, deep or shallow, high or low. Bring what you want to have in the pockets and we'll size them for those tools you want to keep handy.
Materials you need to bring: 1-3/4 yards of denim, duck canvas or similar weight fabric (launder before class) and jean thread..
Skill expected: None needed but some sewing experience is a plus.
We encourage you to bring your own sewing machine, it's bobbin and buttonholer attachment however if you don't have one, we have a limited number. Please call to reserve.
Supplies and materials provided: Base Apron pattern, velcro, release buckle and tri-glide slide, fabric shears, seam gauge, pins, jean needles, seam ripper, interfacing, an iron and ironing mat.
Directions-  Knox Makers parking and entrance is located around the back of the ETTAC building in the fenced in area. 
There will be a fee for this class of $29.96 for the general public, $24.96 for current Knox Makers members. There will be a maximum of 4 spots for this class, and a minimum of 2 tickets must be sold. If the class minimum is not met 48 hours prior to class start time, the class will be canceled and all tickets will be refunded.
Knox Makers is a place for the Knoxville area's engineers, artists, hobbyists, innovators, educators and entrepreneurs to work and play. We are a technology and art collective dedicated to the promotion of creativity enabled and informed by science. Our lectures, workshops, and outreach programs inspire and educate both members and the general public. Our workshop provides members with both the space for large projects and the tools to complete them. We are a non-profit educational organization supported by member dues and staffed by volunteers.