Intro to Sewing – Reversible Japanese Knot Bag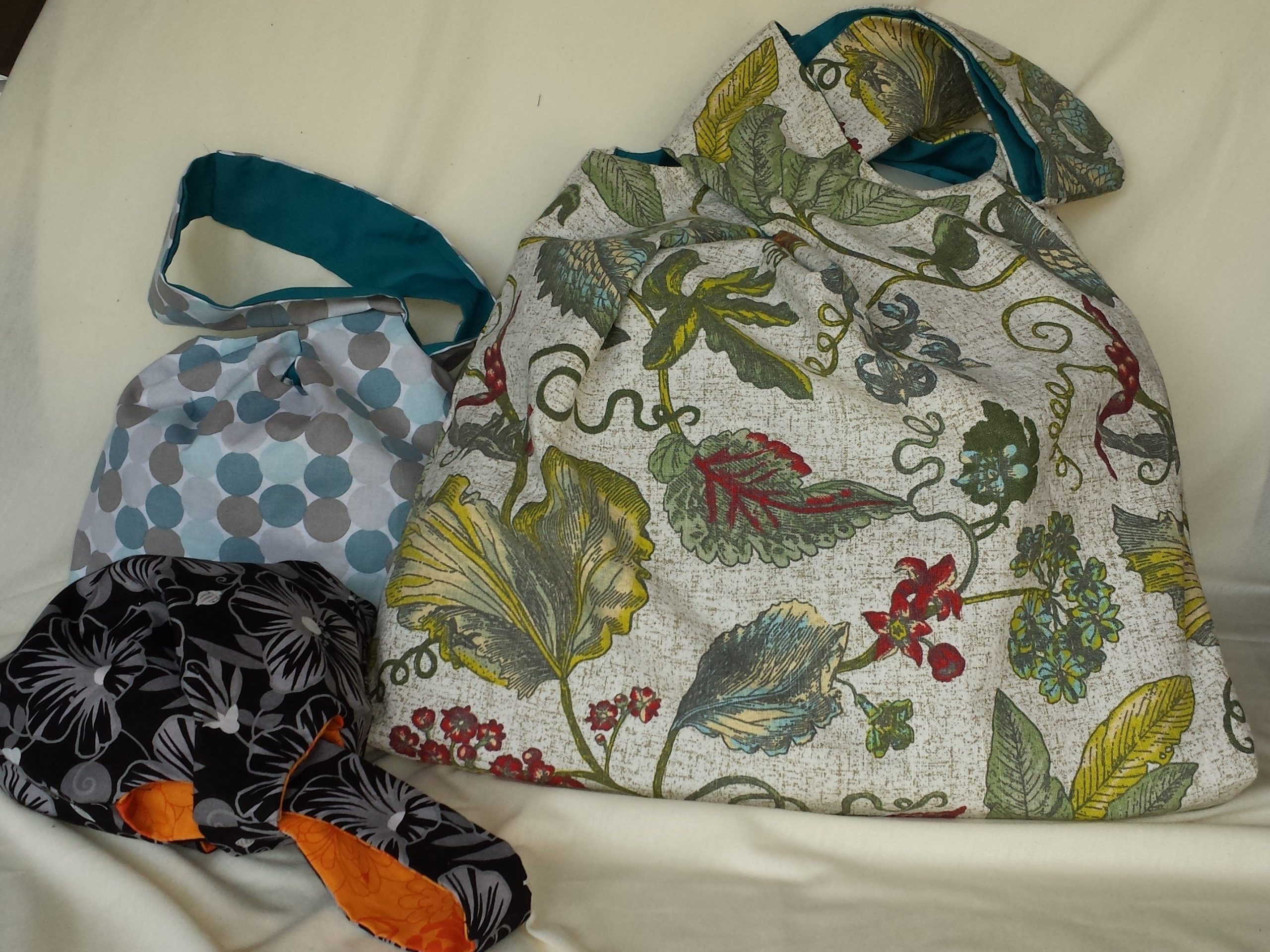 This class is perfect for the beginner sewer. You will learn how to pin, mark and cut out your pattern. You will be doing straight stitching, making darts and sewing along curves. We'll provide the pattern with specific instructions and guide you along the way to make a super cute and useful bag.
Choose the size you want and then see the material list for what you will need to bring.
The small bag is sized for phone, keys and small wristlet. Perfect for a quick run to the store. The medium bag is sized for bigger wristlets, a to-go craft bag or transporting those gyms clothes. The large bag is big enough to hang from the shoulder and is sized to be used for a shopping bag or maybe all the things you need to take to the pool or park. The uses are endless.
Materials needed: Small – Two fabric pieces 1/4 yard for each (1 inside / 1 outside) or two fat quarters. Medium – Two fabric pieces 5/8 yard for each (1 inside / 1 outside). Large – Two fabric pieces 7/8 yard for each (1 inside / 1 outside). Suitable fabrics is a quilting cotton, broadcloth or similar weight. Matching sewing thread. Picture shows repurposed stained top for medium and a tablecloth for the large size.
We encourage you to bring your own sewing machine, bobbin, matching sewing thread. Limited quantities of these are available so you may have to share.
Materials provided: Sewing pattern, fabric shears, pins, measure and marking tools, turning tools, seam ripper, an iron and ironing mat, hand needles and safety pins.
There will be a fee of $24.96 for members, and $29.96 for non-members. There will be a maximum of 4 spots for this class, and a minimum of 2 tickets must be sold. If the class minimum is not met 48 hours prior to class start time, the class will be canceled and all tickets will be refunded.
Directions- Knox Makers parking and entrance is located around the back of the ETTAC building in the fenced in area.
Knox Makers is a place for the Knoxville area's engineers, artists, hobbyists, innovators, educators and entrepreneurs to work and play. We are a technology and art collective dedicated to the promotion of creativity enabled and informed by science. Our lectures, workshops, and outreach programs inspire and educate both members and the general public. Our workshop provides members with both the space for large projects and the tools to complete them. We are a non-profit educational organization supported by member dues and staffed by volunteers.