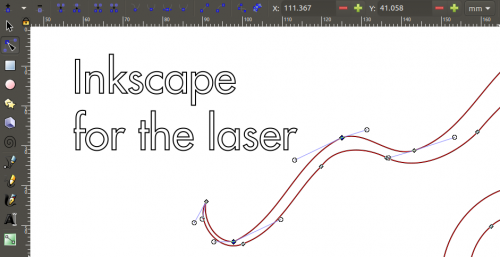 Inkscape is the primary vector graphics editor used at Knox Makers. In this secondary class, some useful extensions and processes common to the laser will be taught, including:
– hatch fill extension
– engraving raster images
– node editing and tracing
– figuring out slots and tabs
Computers will be provided and a basic knowledge of Inkscape is expected of participants. If you wish to bring your own laptop, please download Inkscape at inkscape.org and come a few minutes early to make sure it is set up properly.
There is a maximum of 6 participants. The cost for the class is $19.96 for Knox Maker Members and $29.96 for Non-Members. There is a minimum of 2 participants, if this minimum isn't met 24 hours before the start of class, the class will be canceled.
Directions- Knox Makers parking and entrance is located around the back of the SPARK building in the fenced in area.
Knox Makers is a place for the Knoxville area's engineers, artists, hobbyists, innovators, educators and entrepreneurs to work and play. We are a technology and art collective dedicated to the promotion of creativity enabled and informed by science. Our lectures, workshops, and outreach programs inspire and educate both members and the general public. Our workshop provides members with both the space for large projects and the tools to complete them. We are a non-profit educational organization supported by member dues and staffed by volunteers.