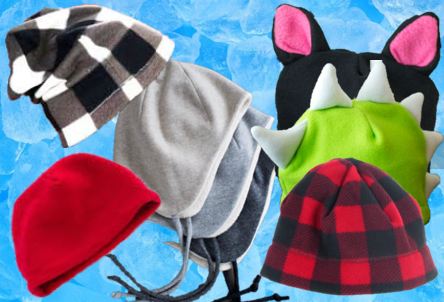 Geared to the beginner, we will go over the basics of using a sewing machine then cut, pin and sew our fabric into a cozy wintertime staple. Make it plain or add some ears, cover the ears or make it slouch, line it or not, you decide.
What we provide:
• We will have fleece fabric options for you to choose from.
• We have machines or you can bring your own.
• We also provide all thread, scissors, patterns and everything else you will need.
Pricing includes all supplies – even fabric. Of course, you're always welcome to bring your own fleece if you have a specific color or print in mind. For this project you will need 1/2 yard of any kind of fleece and a second 1/2 yard for a different color lining if you want it lined. Workshops for adults are fun, educational and you will leave with something fabulous – made by you!
The cost of the event is $24.96 for non Knox Makers members and $19.96 for Knox Makers members. The minimum amount of participants is 1 while the maximum will be four.  If the minimum of participants is not attained within 48 hours of the event, it will be canceled and fees will be refunded.
Directions-  Knox Makers parking and entrance is located around the back of the SPARK building in the fenced in area.
Knox Makers is a place for the Knoxville area's engineers, artists, hobbyists, innovators, educators and entrepreneurs to work and play. We are a technology and art collective dedicated to the promotion of creativity enabled and informed by science. Our lectures, workshops, and outreach programs inspire and educate both members and the general public. Our workshop provides members with both the space for large projects and the tools to complete them. We are a non-profit educational organization supported by member dues and staffed by volunteers.