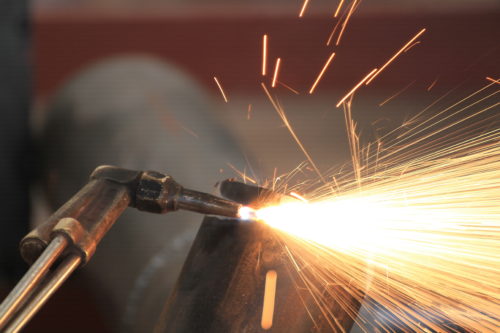 This is the Authorization Class to use the oxy-fuel cutting torch.
We will spend some time going over safety and then move on to operation of a cutting torch. We will cut out some basic shapes as well as learn some other tricks you can use a torch for.
Students should wear natural fiber clothing (jeans, cotton shirts, etc) NO polyester, spandex or "tech" style clothes. Socks and shoes are required, NO sandals or open toes.
If you have own PPE- please bring safety glasses, leather gauntlets, shade 5 cutting goggles/glasses, and a welding shirt/jacket. *If you do not have this yourself do not worry! We will have gear for you to use!*
Directions: Knox Makers parking and entrance is located in the fenced area around the back of the SPARK building.
Knox Makers is a place for the Knoxville area's engineers, artists, hobbyists, innovators, educators and entrepreneurs to work and play. We are a technology and art collective dedicated to the promotion of creativity enabled and informed by science. Our lectures, workshops, and outreach programs inspire and educate both members and the general public. Our workshop provides members with both the space for large projects and the tools to complete them. We are a non-profit educational organization supported by member dues and staffed by volunteers.