Creating an Alcohol Ink Masterpiece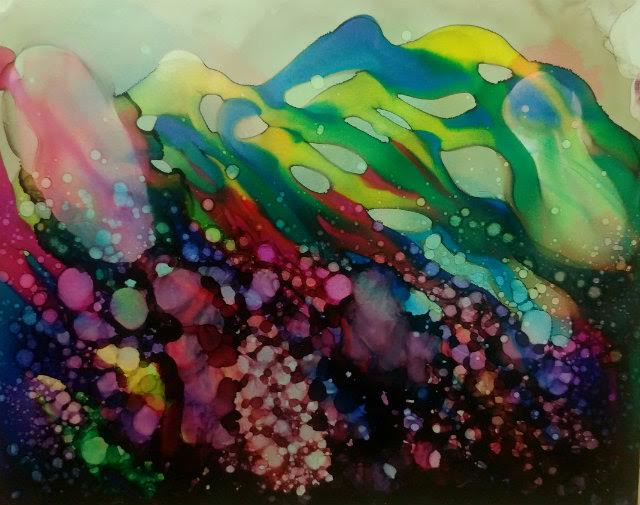 Alcohol inks are acid free, fast drying, highly pigmented inks that can be painted on most non-porous surfaces, including Yupo paper, velum, and glass. Shelley will lead this hands-on class in which students will create small works on Yupo paper using inks and rubbing alcohol. This class will experiment with non-conventional tools to move the ink around and create unique textures. Students will learn to play with the fluidity of alcohol inks for creating abstract art or expressive landscapes. This media is not traditionally messy; however, students might wish to wear a smock shirt to protect clothing.
This class is open to all levels of artists from beginner to intermediate. No prior experience is necessary.
There will be a fee for this class of $30 for the general public, $25 for current Knox Makers members. All materials and supplies are included in this fee. There will be a 12 person maximum for this class and a 6 person minimum. If the class minimum is not reached by 48 hours prior to the time the class is scheduled to begin, the class will be canceled and all tickets will be refunded.
Knox Makers is a place for the Knoxville area's engineers, artists, hobbyists, innovators, educators and entrepreneurs to work and play. We are a technology and art collective dedicated to the promotion of creativity enabled and informed by science. Our lectures, workshops, and outreach programs inspire and educate both members and the general public. Our workshop provides members with both the space for large projects and the tools to complete them. We are a non-profit educational organization supported by member dues and staffed by volunteers.
Who's Attending
9 people are attending Creating an Alcohol Ink Masterpiece
9 people are attending Creating an Alcohol Ink Masterpiece