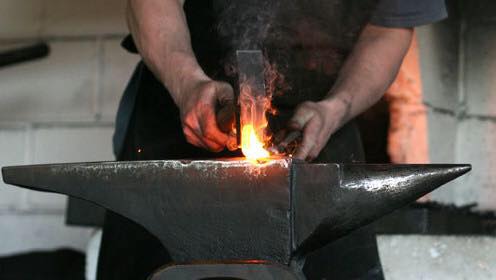 Howdy folks, I'm Andrew Messersmith. I was a member of CRBG from 2012-2019 and President for 2016-2018. I was saddened to hear that CRBG was struggling to find its feet after the Covid years took its toll. I spoke with Honey Bun and we've decided to try and have an Ol' fashioned Revival. This coming Sunday, June 26th at 1:30pm I'd like to invite past, present, and aspiring members to Knox Makers forge at 116 Childress St. in South Knoxville.
The Guild has a lot of work to do to get back inline with the charter, but before we do that we need to rally the troops, find folks interested in being involved and engaged, and just get together, have some fun, and swing a hammer.
Directions- Knox Makers parking and entrance is located around the back of the SPARK building in the fenced in area.
Knox Makers is a place for the Knoxville area's engineers, artists, hobbyists, innovators, educators and entrepreneurs to work and play. We are a technology and art collective dedicated to the promotion of creativity enabled and informed by science. Our lectures, workshops, and outreach programs inspire and educate both members and the general public. Our workshop provides members with both the space for large projects and the tools to complete them. We are a non-profit educational organization supported by member dues and staffed by volunteers.