Build a Custom Macro Keyboard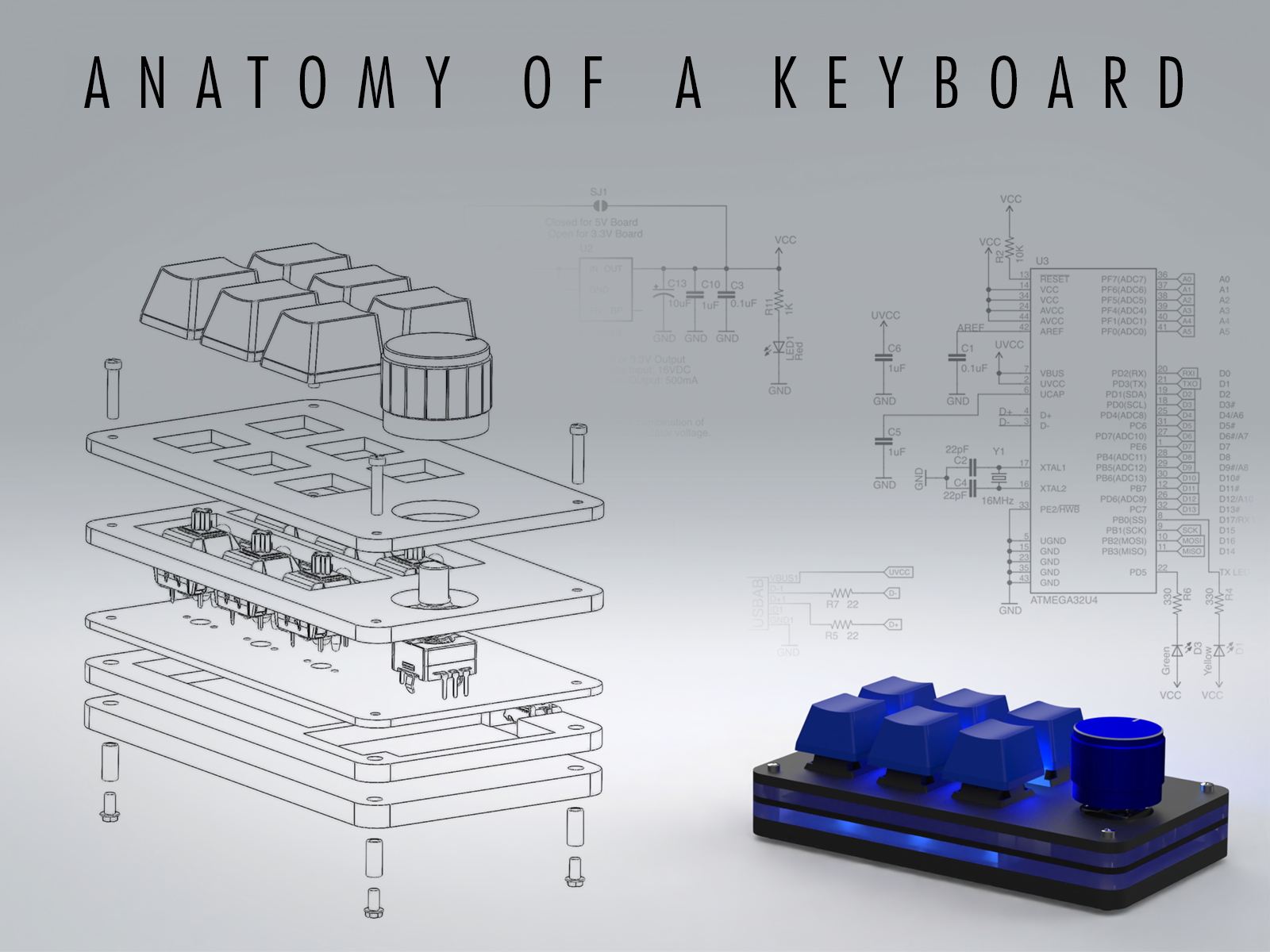 A macro keyboard is a custom keyboard with keys, knobs or buttons, which plugs into your USB port and can be programmed to perform a variety of tasks (or macros). If you've ever wanted to build your own custom macro keyboard, this is your chance!
Here are a couple of examples:
– A fairly advanced keyboard with custom keys
– A more basic keyboard
Paul and Ray will lead a series of classes where you design your own custom keyboard, have PCBs fabricated, and then build and program it for your PC. Classroom time will be primarily showing how to complete each portion of the project including constraints, design hints, costing, schematic design, PCB design, and design review. They will also be there to answer any questions you have.
Attendees should plan on spending time outside of class to complete most of their design work. Depending on the complexity of your design and your experience level, this could be as little as a few hours per week or could take much longer.
We plan to help folks laser cut acrylic cases but you are free to design and 3D print your own or take any other approach you prefer. We will handle a group order of PCBs to save on shipping costs from overseas. Attendees will be responsible for ordering switches, knobs, buttons, etc. We may be able to coordinate a group buy if multiple people use suppliers with high shipping costs or minimum orders.
The only materials included in the cost of the class is a PCB fabrication run, up to 4″x4″. You may make a larger PCB but will need to cover the additional cost. To plan for costs, you could assume a baseline of $10 for an Arduino Pro Micro, $10 for acrylic for a case, $1-$2 per key and a few dollars per knob. You can beat these costs, you can spend more.
The planned class agenda is:
Feb 22, Intro, design constraints, hints, tips to design your keyboard
Mar 1, How to perform schematic capture using KiCAD
Mar 8, How to perform PCB layout using KiCAD
Mar 15, Finalize all details so we can order PCBs and parts
March 22, Design acrylic laser cut cases (PCB fabrication is in process)
March 29, No class, waiting for PCBs to arrive
April 5, No class, waiting for PCBs to arrive
April 12, Build PCBs, debug hardware
April 19, Make-up class or additional help as needed
With a class series such as this, understandably some people will not be able to make every class. Screencasts that describe each portion will be provided and help can be had via Knox Makers Mattermost channels or email. We will do our best to be flexible to accommodate people's schedules, and we ask that attendees understand that a longer class series such as this may require some adjustments as we go.
Prior experience required – none. We will have an example project with all design aspects completed. You can replicate this with no changes, or you can go full-on custom crazy, it's up to you. We'll work to help you match your project design with your experience level and your available time to dedicate to the project.
Tickets will be $60 for Knox Makers members, and $100 for non-members. Attendees of the current KiCAD class series receive a $10 discount.
All proceeds go to Knox Makers.
---
Directions- Knox Makers parking and entrance is located around the back of the SPARK building in the fenced in area.
Knox Makers is a place for the Knoxville area's engineers, artists, hobbyists, innovators, educators and entrepreneurs to work and play. We are a technology and art collective dedicated to the promotion of creativity enabled and informed by science. Our lectures, workshops, and outreach programs inspire and educate both members and the general public. Our workshop provides members with both the space for large projects and the tools to complete them. We are a non-profit educational organization supported by member dues and staffed by volunteers.