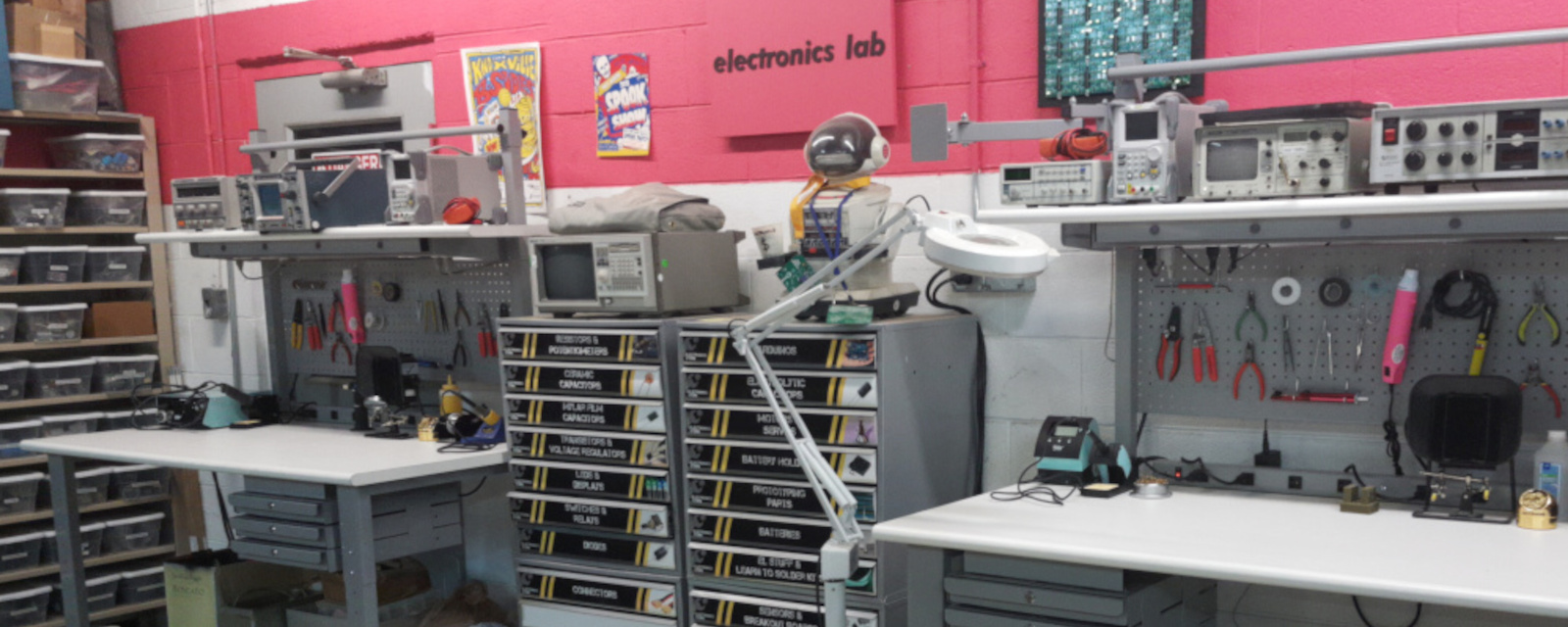 The Electronics Zone is designed for electronics prototyping, assembly, test, and repair. Two standing workstations are each equipped with a power supply, multimeter, soldering station, fume extractor, solder dispenser, and basic hand tools. Shared resources include a digital storage oscilloscope, hot air rework station, solder reflow oven, prototyping breadboards, and desoldering tools.
A wide variety of donated and scavenged parts are available for member use at no charge. Additional materials are available through the Knox Makers Electronics Store at low cost.
The Electronics Zone is maintained by Electronics Czar issac.
SOLDERING EQUIPMENT
Hakko FX-888D digital soldering station, 70W; users' manual
Weller WD1 micro digital soldering station, 85W, 150-850°F; users' manual
Weller WRS1002 digital hot air rework station, 150–1000°F; users' manual

Hakko FR-301 desoldering tool, 140W; users' manual

T-962 infrared IC heater, 800W infrared solder reflow oven

Aoyue 486 smoke absorber
ELECTRONIC TEST EQUIPMENT
Rigol DS1052E digital oscilloscope, dual 50MHz channels; users' manual

Leader Electronics LBO-508A analog oscilloscope, dual trace 20MHz channels

AVCOM PSA-37D spectrum analyzer, 10-1750MHz / 3.7-4.2GHz; users' manual

GW Instek SFG-1013 function generator, sine, square, triangle, 0.1Hz-3MHz; users' manual

Hewlett-Packard 1670D 136-channel 125MHz logic analyzer

Extech EX330 autoranging digital multimeter;

users' manual
POWER SUPPLIES
Rigol DP711 DC power supply, constant voltage / constant current, 30V 5A; users' manual
Rigol DP712 DC power supply, constant voltage / constant current, 50V 3A; users' manual
HeTest HY3005F-2 DC power supply, constant voltage / constant current, 2x 30V 5A; users' manual


Soar Corp 7202 DC power supply, 2x DC20V/2A, 1x DC5V/3A
OTHER
Amscope 3.5X-90X stereo microscope w/ LED lighting