Events for July 24, 2021
Events Search and Views Navigation
9:00 am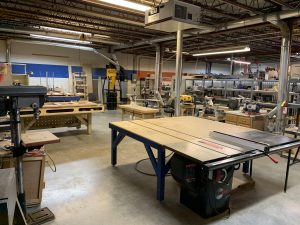 This class will cover topics related to safe and correct operation of equipment within the woodworking area. This is the authorization class for the area and is required prior to using the equipment. Safe practices will be demonstrated and learned by a hands on approach in the context of taking rough lumber through the process of milling and operation of all equipment in the space. If you have previously paid and attended a wood authorization class then we encourage you to audit the class free of charge at any time.
Cost of the event is $19.96 and is for Knox Makers members only.
Find out more »
1:00 pm

** Intro to Machining is a prerequisite class. You have to complete the Intro to Machining class before you can take the Milling 101 Class. **
In this class you will receive basic hands on experience in operating a Bridgeport Series I J-Head milling machine. During this 3 to 4 hour class, Billy will go over the basics of tramming the head of the mill, tramming the vise, edge finding, work holding and setup, drilling , side milling, and top/end milling operations. You will also learn the basics of the DRO (digital read out), the table power feed, and basic care of the mill. This is a tool authorization class and once completed you will be authorized to use the milling machine and Knox Maker members will receive a key need to operate the mill. Intro to Machining is a prerequisite class.
There will be a fee of $24.96 for members.. There will be a maximum of 4 spots of this class, and a minimum of 2 tickets must be sold. If the class minimum is not met 48 hours prior to class start time, the class we be canceled and all tickets will be refunded.
Find out more »
+ Export Events